Sushant Singh Rajput: Left Too Soon!
The most painful Goodbyes are the ones that are never said and never explained!
Coronavirus is still hitting the world so hard and has killed many people. We were already going through the worse, to top it all, we receive another terrible news: Sushant Singh Rajput is no more.
The Heart Aches!
My heart aches when I write this article. This is so unfortunate to write about one of your favorite actor's demise. The news has left me in shock and I am so shattered today. How someone can smile all the time while his heart aches like hell. We have always seen him smiling. From Kis Desh Mein Hai Mera Dil to Chhichhore, we have seen him in almost every possible role.
Sushant Singh Rajput: A name that ruled several hearts, left for his heavenly abode on Sunday. The superstar died of suicide as he hanged himself from the ceiling fan in his room. He was a TV and Bollywood actor. Apart from this, he was a brilliant Dancer and an aspiring Entrepreneur. Sushant started his journey as an actor with the TV Industry. He made his debut from a Star Plus show Kis Desh Mein Hai Meraa Dil (2008). It was a romantic drama. He then starred in Zee TV's popular daily soap Pavitra Rishta (2009). His on-screen character Manav Deshmukh won many hearts. Ankita Lokhande played his on-screen wife (Archana Deshmukh). He won many awards for his outstanding performance.
Sources say he was suffering from depression for the last 6 months. But, did anyone ever thought that there was so much pain behind such a smiling face? A person who had looks to die for, one who always kept himself fit with regular workouts, can he die like this?
We dedicated a short video to Late Sushant Singh Rajput, wherein the video has been created by my friend Sahil Sachdeva and the lines were written by Mr. RK Rastogi.
His last Instagram post says a lot about the pain he was going through. He shared a post on June 3 and dedicated a few lines to his mother.
Sushant made his film debut from Kai Po Che! (2013) after he was spotted by the Director. And then, he never looked back. He received a nomination for the Filmfare Award for Best Male Debut. After this, he did Shuddh Desi Romance (2013), a romantic drama opposite Parineeti Chopra. Detective Byomkesh Bakshy! (2015) was an action thriller where he played a titular detective. He played a supporting role in the satire PK (2014) starring Aamir Khan and Anushka Sharma. His heartwarming performance in M.S. Dhoni: The Untold Story (2016) created history. For his performance, he was nominated for many awards and won 2 awards. Sushant came a long way and also starred in some more commercially successful films like Kedarnath (2018) and Chhichhore (2019).
NITI Aayog had signed him to promote the Women Entrepreneurship Platform (WEP). Apart from acting, he used to run Innsaei Ventures and used to stay involved in various other programs. This included Sushant4Education, which was an initiative to help young aspiring students.
Early Life
Sushant belonged to the Bihar's Purnia district. He was born in Patna to Shri Krishna Kumar Singh and Late Smt. Usha Singh. The couple's 5th child, Sushant was the only brother of 4 sisters. One of his elder sisters, Mitu Singh, is a state-level cricketer. He was also a cricket lover and used to play in his younger years. His mother died of prolonged illness in 2002. This incident left the young actor devastated and he moved to Delhi with his family the same year.
Rajput attended St. Karen's High School in Patna and then changed to Kulachi Hansraj Model School in New Delhi. He had appeared in the DCE (Delhi College of Engineering) Entrance Exam in 2003 and scored 7th rank. Thereafter, he secured his admission to the Bachelor of Engineering (Mechanical Engineering) at Delhi College of Engineering. He also won a Physics National Olympiad. In his college days, he started to pursue his interest in theatre and dance. Rajput joined the Shiamak Davar Dance Academy. After a few years of theatre and dance training, he went to Mumbai to pursue an acting career.
Strong Man, Sushant!
Sushant has always been positive in each and every situation. He used to motivate people about not giving up and speaking out. Last year, he shared a tweet stating the same. He has left his fans in pain. His family and fans are unable to believe that he dying of a suicide. Though they consider him an extremely strong personality, they think he can never commit suicide. No suicide note was found at his residence.
If we talk about the iconic movie MS Dhoni: The Untold Story, he did exceptionally well. Keeping captain cool MS Dhoni's fan following in mind, Sushant had a huge responsibility on his shoulders. But he completely justified the role as he spent for 10 long months under the watchful eyes of Kiran More, the former Indian wicket-keeper. He helped Sushant to get a taste of what it takes to be like Dhoni. Dhoni and Sushant couldn't spend much time together, but he got a hold of the cricketer's mannerisms by watching his videos.
At the trailer launch of the film, Dhoni was asked whether he is under pressure since a movie on him was being released. In his reply, the iconic cricketer said there was more pressure on Sushant. He applauded the actor for doing an excellent job despite not getting much time with him. Dhoni stated:
"It was more difficult for him because he has to convince the public about what he was feeling inside while playing my role. For this, he asked a lot of questions from me like – how did you feel at that time, how do you feel now? I told him – yaar tum sawaal he poochhte rehte ho (you keep asking questions)"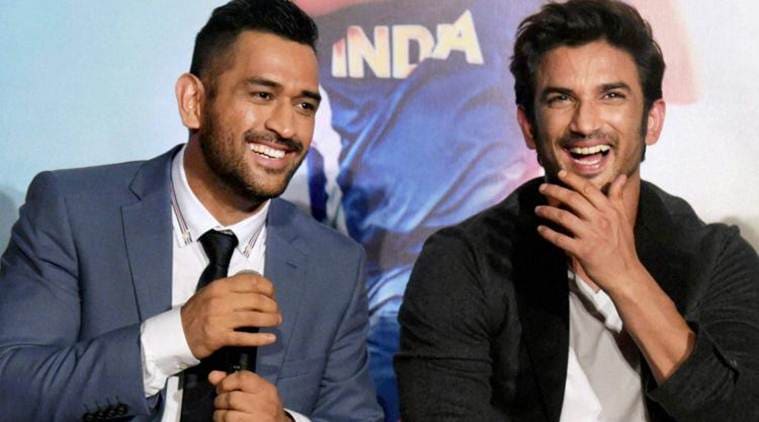 Dhoni also praised Sushant for learning all the cricket shots, especially his trademark 'helicopter shot' which he said looked like a replica in the movie.
"In reality, we spent a lot less time together. But the kind of effort he has put in the film because one of the essential parts was cricket. Of course, all of us play cricket but when you have to show it on screen, you have to learn certain things, especially cricket shots. He has hit the helicopter shot in the movie and it's exactly like a replica. So Sushant has put a lot of effort,"
At the launch, Sushant was asked whether there was a pressure to play MS Dhoni's character, he stated:
"In the year 2006-07, after a lot of difficulties, I and my family were able to meet MS Dhoni. I also clicked a photo with him and my family. He is one of the very few persons I have enormous respect for. I look up to him so to get an opportunity to get to know his inside story, up close and personal, gave me a lot of excitement, not pressure. Very honestly, there are films in your career which you do with full honesty and you end up being a good actor but there are very rare films that you do and end up becoming a good human being."
His statement clearly shows that how much he used to adore the cricketer. He was one of the biggest fans of Dhoni. The cricket and the film fraternity were left in shock on hearing the actor's suicide news.
Sushant's Upcoming Projects
Sushant was confirmed to appear in two upcoming films: Chanda Mama Door Ke, a science-fiction space film, with R. Madhavan and Takadum: musical drama, which was opposite Irfan Khan and Parineeti Chopra. He had to withdraw from the film due to some date conflicts. In 2020, he starred in Mukesh Chhabra's unreleased remake of The Fault in Our Stars titled Dil Bechara. The film was set to be released in May, 2020 but it was postponed due to the COVID-19 pandemic. He was also set to portray 12 real-life characters. The list included a political strategist Chanakya, famous poet Shri Rabindranath Tagore and former Indian President Shri APJ Abdul Kalam, in a biopic series.
Awards
Sushant had won many awards in his career. May it be the TV industry or the film industry, he was loved by all. He won the Most Stylish Youth Icon Award in 2016.
He had also won a number of awards for his outstanding performances in TV show Pavitra Rishta and films like MS Dhoni: The Untold Story and Kai Po Che.
He was always praised for his work and many young actors are admiring him. Siddhant Chaturvedi recently wrote on his Instagram:
Himmanshoo Ashok Malhotra, actor, dancer, and motivational speaker took his Facebook Account to express his grief. He runs the "Share and Grow Initiative" where he motivates people to come forward and share their problems. He expressed his disbelief in the incident and wrote that Sushant must have shared his heart out with him.
Industry Expressing Grief
The industry is mourning since Sunday as they heard this devastating news. Celebrities expressed their pain through Twitter and Instagram.
Goodbye, The HeartThrob
Sushant Singh Rajput, the heartbeat of lakhs of girls across the country, has left us so untimely. His final riots were performed at the Pawan Hans Crematorium on Monday evening. He was a gem of a kind and would be remembered for ages to come!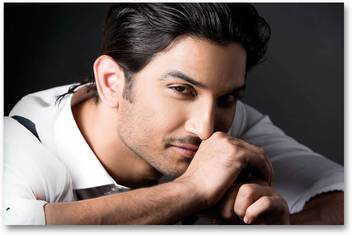 Your life was a blessing, your memory a treasure. You are loved beyond words and missed beyond measure.
Kanika Kapoor gives 1st statement after recovering from coronavirus
Singer Kanika Kapoor, who has recovered from coronavirus, has issued a statement on the controversy surrounding her diagnosis. "I was duly screened at the…airport. There was no advisory on that day that stated that I need to quarantine myself," she wrote. "I attended a friend's lunch and dinner…There was no party hosted by me," Kanika added.
Here is her note:
I know there are several versions of stories out there about me. Some of these seem to be fuelled even more because I have chosen to be silent till now. I stayed quiet not because I am wrong but in-fact being fully aware that there have been misunderstandings and wrong exchanges of information. I was giving time for the truth to prevail and for people to reach their own realisation. I thank my family, friends and supporters for allowing me the space to talk when am ready. I hope and pray that you all are safe and being careful during this time.
Some facts that I would like to share with you. I am at home in Lucknow spending some quality time with my parents 🙂 Every person that I have come In contact with be It in UK, Mumbai or Lucknow has shown no symptoms of Covid 19, In-fact all those tested have been negative. I travelled from UK to Mumbai on 10th March and was duly screened at the international airport. There was no advisory on that day (UK travel advisory was released on 18 March) that stated that I needed to quarantine myself. I showed no ill health so did not quarantine myself. I travelled to Lucknow the following day on the 11th March to see my family. There was no screening setup for domestic flights.
On the 14th and 15th March I attended a friend's lunch & dinner. There was no party hosted by me and I was in absolute normal health. I had symptoms on the 17th and 18th March so I requested to be tested. I was tested on the 19th March and on 20th March when informed that my test was positive, I chose to go to the hospital. I was discharged after 3 negative tests and have since been at home for 21 days. I want to especially thank the doctors and nurses who have so graciously taken care of me during a very emotionally testing time. I hope that all can deal with this matter with honesty and sensitivity. Negativity thrown at a person does not change the Reality.
Love, Kanika 26 April 2020
Original Post Link